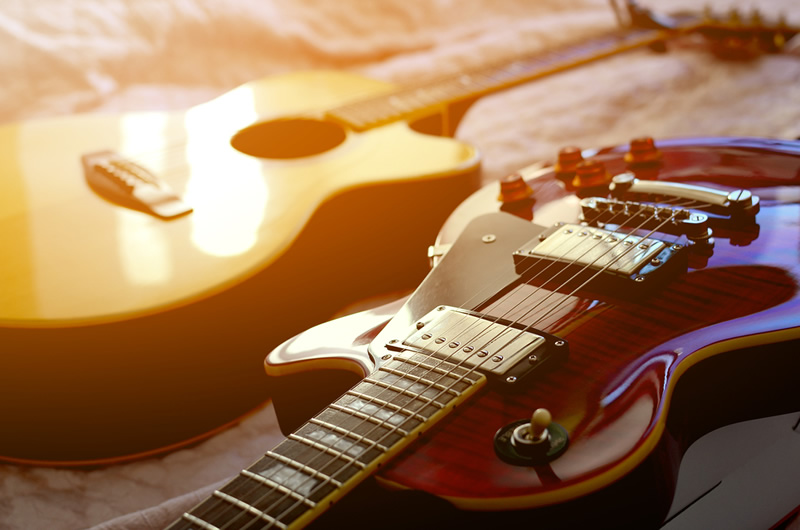 For superior quality electric and acoustic guitar rental in Singapore, visit Sound System Rentals. We have a wide range of Yamaha models available for acoustic guitar rental and electric guitar rental for short or long-term periods and will individually tailor contracts to meet your needs.
Whether you're a beginner wanting to rent a guitar while you're learning how to play or a professional guitarist needing a replacement guitar for a gig, we have the perfect instrument to suit your requirements. We also have an extensive collection of other musical instruments, sound systems and accessories for rent, with all inclusive contracts available.
Our range of Guitars for rent:
Yamaha PAC112V electric guitar
Renowned for its excellent tone and outstanding playability, the Yamaha PAC112V electric guitar is a popular model from the Pacifica series that is suitable for beginners through to more advanced guitarists. It has pro-level chrome hardware and premium electronics along with a classic and comfortable contoured body. With a vintage style vibrato and a H-S-S pick-up configuration offering 5-way switching, it has superior sound clarity and is ideal for playing many different music genres.
Yamaha PAC120H electric guitar
For guitarists wanting an instrument that offers superior tone and versatility, the Yamaha PAC120H electric guitar is ideal. With a classic humbucker tone and seamlessly comfortable body design, this high quality guitar from the Pacifica series is sought after by guitarists of all skill levels. The three position switch has a broad range of tones and the rosewood fretboard, boasting 22 frets, allows players the freedom of more luxurious string bending.
Yamaha F310P NT acoustic guitar
Ideal for a first guitar, the Yamaha F310P NT acoustic guitar has great tone and a versatile sound for a broad range of music genres. With a stylish spruce top and mahogany back and sides, its clean design and quality workmanship make it an outstanding guitar. It also has a rosewood fingerboard with pliable string design for comfortable bending.
Yamaha FG830 natural acoustic guitar
With a comfortable dreadnought style body and an upgraded design boasting scalloped bracing, the Yamaha FG830 natural acoustic guitar offers a stronger low end, as well as enhanced projection, which are essential for both live and recording requirements. The rosewood back and sides and slim neck with cleanly rounded fret edges provide superior tone and warmth of sound and deliver smooth playability.
Flexible guitar rental options
At Sound System Rentals, we offer flexible rentals options, with short and long-term rental, as well as having fully customised contracts available. We are proud to offer the highest quality musical instruments for rent, at the cheapest rates, industry-wide.
With many years rental experience we can advise you on the right electric or acoustic guitar to suit your needs. If you require speakers, cables a mixer console or other musical instruments, we can also create a tailored sound package to fulfil your requirements.
For an additional cost, we can also arrange equipment delivery and collection. We can also extend your rental period for an affordable rate, if you decide you would like to rent our guitars for a longer period.
Cheap guitar rental packages
To discover more about our cheap guitar rental in Singapore, contact our friendly team today. If you're organising a concert or performance and require multiple guitars, sound equipment and other instruments, we're happy to customise a package for a very competitive rate.
All of our guitars are well-maintained, tuned after every rental and in great condition, delivering the highest sound quality. Ask our team for an obligation free quote to see our affordable rates for acoustic guitar rental and electric guitar rental.
Approve and download Or ask for changes