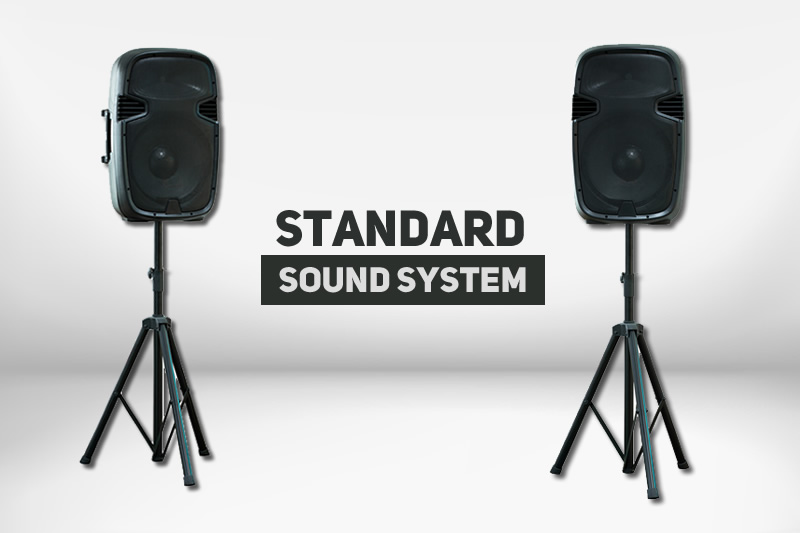 If you're after a superior quality standard 2 speaker PA system for rent see our friendly team at Sound System Rentals. The largest supplier of musical instruments, sound systems and lighting in Singapore, we have PA systems for all types of private and corporate speaking engagements and events.
We supply a wide range of PA system rental services ranging from equipment delivery and set-up to tuning and collection. Our standard PA systems offer a higher standard of sound quality and bass than a single speaker system. We offer all-inclusive short and long-term rental packages which we can customise to accommodate your individual requirements.
All of our rental equipment is sourced from industry-leading brands such as Yamaha, Behringer, SoundTech, JBL and Roland, which are designed for high definition sound.
To ensure you have even sound coverage at your venue we have a team of experienced sound technicians available. Our sound technicians are versatile and have extensive industry knowledge setting up and tuning standard PA systems for all types of private and corporate requirements. They are committed to delivering the highest standard of service and sound quality for complete customer satisfaction.
Standard PA speaker sound system for events
The standard PA speaker sound system is the ideal option for conferences, parties, seminars and a vast range of indoor and outdoor events, such as concerts. To provide good sound coverage the speaker can be moved to effectively cover the room or outdoor area.
A standard PA system is comprised of 3 main components which are the mixer console and 2 speakers. With this type of system the mixer console controls the background music, as well as the microphone volumes.
Our standard PA system package is all inclusive of delivery and equipment set-up. For an additional charge, a sound technician can operate this system and manage the sound during your private or corporate event or function. There are also add-ons available for larger corporate or private events.
This package is for a 3-day rental period. If additional days are required we can include these for a charge on top of the basic package costs.
The recommended audience size for this type of PA sound system is 150 to 300 people, which can either be in an indoor or outdoor setting.
Standard sound system includes:
– Two loudspeakers and stands
– Two microphones (wireless)
– One mixer console
– One audio connector cable which you use to plug in your PA system
– Equipment set-up, delivery and collection after the event
Add-ons which are available:
– Wireless and wired microphones
– Loudspeakers
– Stage monitors
– Sound management technicians
High-quality sound systems at affordable rental rates
There are affordable short or long-term rental rates available for standard PA system rental. This system is also very versatile with quality sound coverage for a larger audience. For longer hire periods we offer reduced rates.
If you're uncertain about whether the standard sound system rental package is right for you or what additional equipment you will need to deliver good sound coverage at your next private or corporate event, speak to our friendly staff today. We are happy to customise our standard PA system rental packages to more efficiently fulfil your needs and will collaborate with you to make your event a success with the right sound system for your audience.
To discover more about our wide range of products and services you can either call or email us at Sound System Rentals and we will respond to you promptly. We can also provide an obligation-free quote if you'd like to find out about our affordable rental rates for short or long-term hire.